About Anamay Homoeo Clinic
---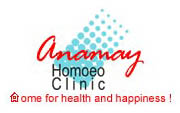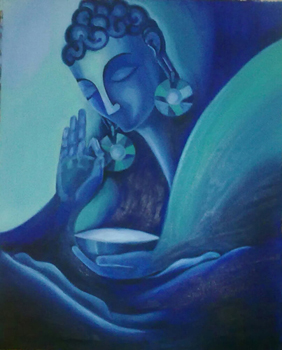 About Anamay This painting is from Nandan Pitre. It was created out of his imagination from our visit to Sikkim. It's about the form of Buddha called "Shakya Muni". This avatar for healing , represents healthy life. If you see carefully, in one hand, "Shakya Muni" holds a pot with offering which is beyond matter & provides health, that gives pure strength!! This is also "Anamay" which is name of God Shri Vishnu – Anamay is a power that's beyond matter and which is beyond disorder and decease, that represents the "Pure Health", one that's not affected by any illness. While exploring vast dimensions of HOMOEOPATHY … it's amazing to experience different forms of ENERGY…
Anamay - the name of the clinic is derived from Vishnusaharastra nama, it means Complete Health and Happiness
Anamay Homoeo clinic treats the man in the disease and not the disease. It is not with a rigid view which says, stop all other treatments and take only homoeopathy. But considering psychology of the patients, it provides, homoeopathic treatment for quite complex disorders like diabetes mellitus, hypertension, gall stones, prostate enlargement, high uric acid levels and also permits to continue certain allopathic medicines which can be withdrawn later on very systematically.
This is the only homoeopathic clinic in Pune which provides a personalized travel kit designed for a particular individual taking into account all his health issues during travel.
Anamay Clinic is situated at Navi Peth, the most approachable place at the heart of the city.
Address :
992/993, Kanakaditya Society, Lane Parellel to Bhide Hospital
Near Senadatta Police Chowki, Opposit to Laxmi Medical
Rajendranagar, Navi Peth
Pune, Maharashtra - 411030
Phone : 7378784133, 9145439058
Timing
: Monday to Friday - Morning 10:00 AM to 1:30 PM
Saturday - 2nd and 4th - Morning 10:00 AM to 1:30 PM
Kothrud Branch Address :
Off No. 12, Galleria Building, S. No. 132/14 to 17 Above Loot Mall,
Near Karve Statue, Karve Road, Kothrud,
Pune-29
Phone : 9145439058, 7378784133
Timing
: Monday to Friday - Evening 6:00 PM to 8:30 PM
Saturday - 1st, 3rd and 5th - Morning 11:00 AM to 2:00 PM
Anamay Homoeo Clinic is established and run by Dr. (Mrs.) Aparna N. Pitre, M. D. (Homoeopathy)
Ex.Professor
Treated more than 250 patients of D.M.
Practicing homoeopathy for last 15 years
Worked as in charge of 15 homoeopathic O.P.Ds all over Pune run by N.M.Ranade Homoeopathic hospital (Near Sanjeevan Hospital)
Ex. in charge of Holistic Homoeo Diabetic Clinic run by M.T.E Society
Anamay Homoeo Clinic : Private homoeopathic consulting at Tilak Road, Pune
Since Nov 05, while working as in charge of holistic homoeo diabetic clinic, treated more than 250 patients of diabetes mellitus with homoeopathy, initially without discontinuing their diabetes medicine. Later on their BS levels regularized only with homoeopathy, these patients have really improved their health levels and have become successful in controlling their diabetes with the help of homoeopathic treatment given by us.
Prior to this

1992-2004 : In Bharati Vidyapeeth, Pune
H.O.D Forensic Medicine at Bharati Vidyapeeth Homoeopathic Medical College, Pune
Homoeopathic physician at Bharati Vidyapeeth Homoeopathic O.P.D for 13 years
Worked as rural homoeopathic camp incharge
Member of Board of Studies- pre-clinical

At Present

Working on 'Applied Mind' - A very modern innovative concept in Homoeopathy. A bridge connecting sufferings and the present mental state. This revolutionary idea helps in many cases where other pathies can not work. Attended quite a lot intensive trainings and seminars at Delhi, Orissa, Mumbai.
Presently an active member of Hahnemann's Homoeopathic Forum, Pune (HHF Pune.)

Extra Circular Professional singer - launched musical concerts like "Swapnarang Dhanuche" - a programme of Hindi & Marathi songs and "Baharae fir bhi aayee hai" - a programme dedicated to forgotten hindi music directors